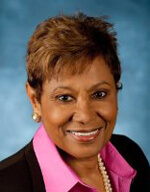 Marcia Steele is a management consultant with strategy, marketing and innovative problem solving expertise. She developed her strategy know-how while working with the "best of the best" starting on Wall Street, moving to Xerox, spending nine years with American Software and ten years with General Electric.
Marcia knows that unfortunately too many strategic planning efforts turn out to be simply an event rather than a results-enabling process. She believes that it is important to help clients develop powerful strategies, as well   as equip them with tools and implementation techniques to achieve results. She says, "Alignment and values are just two of the keys to effective execution and growth." Her passion for guiding individuals and organizations toward discovering and unleashing core strengths produces both tangible and sustainable results.
Ms. Steele is known for facilitating strategic outcomes. She facilitates Board and Management retreats, Culture Change and Business Implementation Strategies, as well as focus groups. Clients engage her to help them work through challenges dealing with strategy, leadership, communications, as well as, organization and process changes.
Her incredible journey as a consultant and speaker, has taken her around the world from Madrid to Bangkok, Melbourne to Hong Kong, London to Tokyo. Her clients include industry leaders such as Procter & Gamble and Coca-Cola; small and mid size companies such as Gaming Partners International and NASCO Software Services; associations such as Women in Transportation and The American Cancer Society, and with governmental agencies such as the Centers for Disease Control and Los Angeles Department of Transportation.
She is one of only 124 women worldwide, to hold the International Federations of Professional Speakers designation, of Certified Speaking Professional (CSP) and a certified Facilitator. She is often requested to speak at Vistage International CEO Sessions and is on the Faculty of Crestcom International Training.
She is an active member of the National Speakers Association (NSA), the Creative Problem Solving Institute (CPSI), and past board member of the International Women in Transportation. She graduated Magna Cum Laude from Oglethorpe University with a BA in Communications and Business Administration.
---