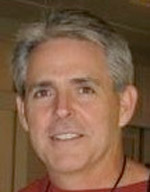 Bill Olsen is a nationally-ranked Certified Professional Facilitator, trainer and speaker focused on delivering accelerated results through creative problem solving. Whether facilitating offsite, training or running workshops, he has a reputation for delivering tangible outcomes and strong consensus. Having supported clients in 10 countries and 26 US states, he serves those with a genuine need for meaningful change.
Serving as a US Navy Commander trained in Creative Problem Solving, Bill applied creative tools to his high-risk Navy project, which achieved unparalleled success and was awarded the Nation's "Silver Hammer Award for Reinventing Government". As a University professor he shared his skills in his own Creative Problem Solving courses, which were formally recognized as "the most popular electives in the history of the University".
Bill Olsen has been a full-time professional consulting facilitator and trainer since 1999, as he continues to use creative problem solving to accelerate results. Sample clients include :
Corporations: Procter & Gamble, Coca-Cola, Disney, Nokia, CEA, Anteon, Camber, Farm Credit, GHD-US, NTP, EMCOR, DiversityInc, Cisco, CWCO Systems & MITRE.
Government: EPA, GSA, FDA, DOT, NIH, DOI, NOAA, FAA, NASA, OMB, VA, DOE, plus County, Borough & City offices, Chambers of Commerce & government of Jamaica.
Military: Major Program offices in Army, Navy, Air Force & Marines, office of the Secretary of Defense & Air Force, Weapon R&D centers & security-classified programs.
Non-Profits: Several dozen National & regional-level associations, as well as Universities, Hospitals, Clinics, and local communities &youth groups.
Some highlights of his experience:
Lead trainer of courses in Facilitation, Creative Thinking & Creative Problem Solving
Facilitation of a wide variety of complex technical, programmatic and political issues.
Facilitation of partnering workshops, new-program starts & corporate turn-arounds
Lead facilitator of national-level conferences, coordinating large facilitator teams.
Lead facilitator of executive offsites, strategic Thinktanks and team-building retreats.
Conference keynotes, master of ceremonies and speaking engagements
Bill is a Certified Professional Facilitator (CPF), and an active member with the National Facilitator Database, International Association of Facilitators, Creative Education Foundation and Mid-Atlantic Facilitators Network. Bill is a regular presenter in international conferences focused on Creativity and Facilitation, in which he has been recognized with many awards. Listed in The Facilitator Database, he has been consistently listed in its "Top 20 Facilitators" since its inception. Bill Olsen is based in the Washington DC region and provides his services globally.
---