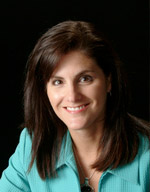 Leigh Ann Rodgers is a Facilitator, Coach, and Trainer specializing in team building, needs assessments, and management training. Leigh Ann strategizes with her clients to help increase their job satisfaction and enhance their effectiveness. Leigh Ann has been facilitating training workshops for nearly 20 years, working with clients ranging from the government sector to small business owners to large corporations. She offers a wide array of programs and services including business coaching, team building, DISC assessment training, and strategic planning.
Leigh Ann coaches individual business owners, executives, and groups to improve their performance and success. Her approach to facilitating is energetic and interactive. Leigh Ann creates a safe, personal, and relaxed environment in which all participants get involved, are challenged, and contribute to the success of the group. Leigh Ann first focuses on her client's purpose and desired outcome. She then collaborates with the client to map out the best process to reach their objectives using a variety of methods and techniques.
Prior to her career as a facilitator, Leigh Ann was a Human Resources Trainer and Manager for SunTrust Bank, during which time she consulted with managers, facilitated team building and training sessions, and performed needs analyses for a variety of business functions. One of her proudest accomplishments was designing and delivering a successful management training program for the company's managers and supervisors. This highly sought after three-month program included a series of eight courses designed to train employees in the fundamentals of managing. Leigh Ann was responsible for the instructional design as well as actual training of the various modules for the program, which had a tremendous impact on the company.
Leigh Ann's corporate background, combined with her adventures as a business owner, gives her a rich platform from which to pull when working with business leaders. She has consulted with organizations including InHealth, CDC, Transcend, SunTrust, College of Rheumatology, and Pixstar. Leigh Ann earned her Master's degree in Education from the University of Georgia, and currently serves as the Vice President of Programming for the Southeast Association of Facilitators. She is also an active member of the Georgia Coach Association.
---