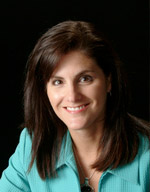 Leigh Ann Rodgers is a Certified Professional Facilitator with 20 years of experience in the human development field. Leigh Ann is one of the rare professionals who enjoys and excels at designing and delivering training workshops and facilitated meetings.  Her experience as an instructor gives her a deep understanding of what is needed to create workshops that engage a group to ready them to learn.  She incorporates her knowledge of adult learning theory, DISC communication styles, and learning styles to design workshops that make an impact and reach all types of participants.  She has designed numerous workshops for both Chick-fil-A, Inc. and also SunTrust.  Additionally, she has re-designed and customized several four-day classes for her clients with Leadership Strategies.
When Leigh Ann is facilitating workshops she is known for energizing the participants through thoughtful and interactive activities. She creates a safe, personal, and relaxed environment in which all participants get involved, are challenged, and contribute to group discussions.  She has been recognized for getting tough and resistant groups to open up and participate actively.  Leigh Ann is both collaborative and flexible, working to meet the unique needs and expectations of each client.
Previously, Leigh Ann was a Human Resources Training Officer and Manager for SunTrust Bank, during which time she consulted with managers, facilitated team building and training sessions, and performed needs analyses for a variety of business functions.  One of her proudest accomplishments was designing and delivering a successful management training program for the company's managers and supervisors. This highly sought after three-month program included a series of eight courses designed to train employees in the fundamentals of managing.  Leigh Ann was responsible for the instructional design as well as actual training of the various modules for the program, which had a tremendous impact on the company.
Leigh Ann's corporate background gives her a rich platform from which to pull when working with business leaders. She has also served as a Career Management Consultant with Right Management, a talent and career management company.  She has consulted and facilitated for organizations including Chick-fil-A, Center for Disease Control (CDC), Federal Emergency Management Agency (FEMA), Mercedes Benz, Transcend, SunTrust, Kellogg's, College of Rheumatology, Georgia Leadership Institute for School Improvement (GLISI), Mississippi Power, and The Weather Channel.
Leigh Ann earned her Master's degree in Education from the University of Georgia, and recently served for three years as the Vice President of Programming for the Southeast Association of Facilitators where she received the President's Award for her service to the organization two years in a row.  She is also a member of the International Association of Facilitators.
---