4 Work from Home Tips and Their Facilitation Counterparts
Like the majority of organizations these days, our team is working from home. We share personal experiences with each other and we've all done some research on the best tips and tricks for remote work. As shelter-in-place orders are extended and the tips keep pouring in, I started noticing similarities between the work from home tips and facilitation skills.
Here are some popular work from home tips and their facilitation skills counterparts.
1. Get dressed for work
This is probably the most popular tip of all. In fact, it's at the top of a lot of lists. The theory behind this idea says it boosts creativity and helps you be more productive. The concept reminded me of our 8th principle of facilitation – Keeping the Energy High. In it, we consider 3 levels of energy with Level 3 being the highest. As you can see from the picture below, starting a facilitated session with Level 3 energy helps make sure you keep your energy up for its duration. Keeping your energy high, in turn, helps your audience stay engaged and focused.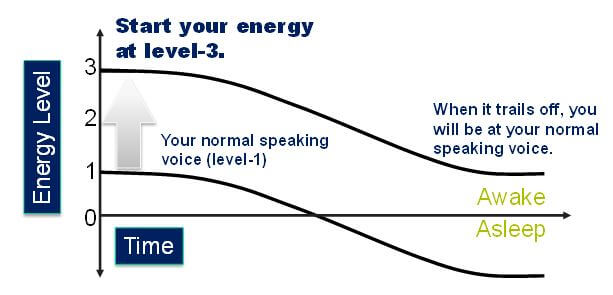 Getting dressed for work each day, even when you aren't leaving the house, is similar to starting with Level 3 energy. In other words, when you take the time to get dressed for work, you start the day with a higher level of productive energy. And that feeling is likely to last longer than if you shuffle out of bed and pull on a pair of sweatpants. Which means you might get more done.
2. Keep a schedule
This tip appears frequently in blogs and social media posts alike. There are, of course, countless opinions on how to create the "right" work from home schedule – and a lot of variables to consider when creating them. What's more, it's recommended that you have a back up plan when the unexpected eventually occurs. In other words, you need to know what you have to do and figure out how to get everything done.
The first principle of our facilitation methodology focuses on preparing for success. One component of being prepared is to know your process cold, which helps ensure that a facilitator can quickly adapt to unexpected changes in the agenda. Similarly, if the majority of the components in a work from home schedule are the same, you can handle unexpected variations with ease. And if you're looking for a way to break up monotony, you have the freedom to make spontaneous adjustments and still complete the day's tasks.
3. Avoid distractions
The majority of lists that include this tip refer to eliminating social media and cell phone interruptions. Aside from personal distractions, professionals who work from home are also faced with remote office disruptions. For example, distractions that used to occur in person such as having someone drop by your office, are now happening virtually in the form of instant messaging notifications and spur-of-the-moment video chats. Most of the solutions for avoiding personal distractions focus on setting aside times in which you allow yourself the opportunity to look at your Twitter feed or play a quick round of Words with Friends.
This solution is similar to a concept from our 3rd facilitation principle – Focusing the Group. One method of keeping a group on track is to use parking boards. When participants begin discussing items or issues that aren't on the agenda, but are still important, add them to a physical list and address them later. In much the same way, you can minimize the professional disruptions you encounter by setting aside specific times to check notifications and interact with your team. Notify your co-workers of your preferred availability and, when you're inevitably interrupted by an unplanned distraction, try putting the topic on an action list to address later.
4. Create harmony within the virtual office
Okay, so this one isn't on any list, however, effective collaboration is as essential for remote workers as it is for those in offices. Working together to create solutions and make decisions is an essential part of company performance. However, a recent study shows more than 71% of remote workers have challenges collaborating. And that was before entire organizations were working from home!
In the short term, simply converting in-person meetings to conference calls (or canceling them altogether) seems like the answer. The challenge lies in finding ways to accommodate each individual's energy levels, schedules, and distractions. For example, the person who typically does other work during meetings will likely need help being more engaged in a remote working environment. Likewise, you may want to assign each participant a specific time in the agenda to speak up. This will ensure that the conversation isn't dominated by one individual as well as giving everyone the chance to contribute.
The techniques and tools for Managing Dysfunction are our 6th principle of facilitation. We focus on finding the root cause and using empathy to agree on solutions that work for everyone. Individuals and departments must work together to address issues and meet objectives – even from remote work environments.
Interested in learning how facilitation skills can help you become a master of working from home? Contact us to discuss your specific needs!