Leadership Strategies has partnered with GENE100, a leading provider of Action Learning research and services in Beijing, China, for strategic planning facilitation training. GENE100 recently completed certification training for seven of its employees, who are now skilled to deliver training in the specialty area of strategic planning. Through Leadership Strategies' three-day course, Secrets to Facilitating Strategy, GENE100 will now introduce facilitation concepts and techniques in its existing strategy development model.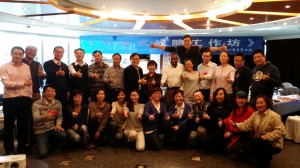 CEO of Leadership Strategies, Michael Wilkinson, conducted the training and trainee evaluation in Beijing over a span of two weeks. The process included training GENE100 in the Secrets to Facilitating Strategy course followed by certification preparation, practice sessions, and trainee assessment.
GENE100 specializes in developing better leadership pipelines, organizational capabilities and performance for its clients. The two organizations saw tremendous synergies between GENE100's leadership development and strategy models and Leadership Strategies' facilitation methodology.
As part of Leadership Strategies' expansion of its facilitation training and services, the leading facilitation training company now offers organizations the opportunity to license and train in-house trainers and resellers in Secrets to Facilitating Strategy. GENE100 is the first global partner of this strategy curriculum.
Learn more about Leadership Strategies' in-house 'train-the-trainer' programs.