Resources
Practice Guide: Preparing Your Opening Words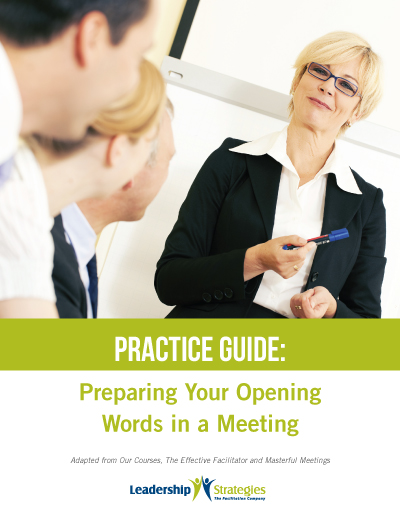 Every meeting is an opportunity to make an impression, and the most savvy professionals do this within the first 15 minutes of an important meeting. If you're tired of leading lackluster meetings that fail to energize your group, it's time to start over – literally. Re(start) your meetings with this free tool that will help you ignite your audience right at the beginning – when it matters most!
This free facilitation resource includes:
An easy practice template for starting your meetings
The ultimate, four-step formula to boost your audience's attention
An exercise designed and used by Certified Master Facilitators
Fill out the form below to get your free tool, Practice Guide: Preparing Your Opening Words in a Meeting.