You enter into a contract when sending out a meeting invite. By accepting, your participants are promising you an hour of their full attention. You owe them something too.
Post this Meeting Bill of Rights in your conference room to let your participants know that when they enter your meeting, they are guaranteed a productive use of their time.
Download, print, and share: FREE printable poster, Meeting Bill of Rights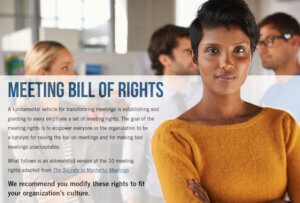 Learn more ways to command a room in our leading training courses, coming soon to a city near you:
Not sure which training to choose? Contact Leadership Strategies to find out which course is right for you or your team.