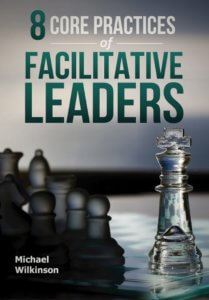 8 Core Practices of Facilitative Leaders – the highly anticipated book by Michael Wilkinson, Certified Master Facilitator™ and Founder and Managing Director of Leadership Strategies – is scheduled for release on August 13.
"A major shift has been occurring in the workplace in which employees are seeking to participate in decision-making and not just be impacted by it." says Wilkinson. "I wrote this book to provide leaders with the tools and techniques they need to effectively operate within the new set of leadership skills this shift requires."
The book explores the methods today's leaders must apply in order to inspire people around a vision, foster trust, manage group interaction, build consensus, resolve conflict, and adapt their approach to the specific needs of each person they lead.
"If you want a great book that takes a facilitative approach to leadership, here it is!" says Ken Blanchard, coauthor of The New One Minute Manager® and Leading at a Higher Level. "The 8 Core Practices of Facilitative Leaders offers practical and insightful strategies any leader can apply immediately. Read this book and learn the best ways to create engagement, buy-in, and alignment in your organization."
The first 1000 books will be stamped sequentially as limited-edition certified copies. A virtual book signing will be held on August 13 from 12:00-1:00 p.m., EDT, during the From Management to Leadership webinar. Pre-orders of the book are encouraged. More information on this and other publications by Wilkinson can be found in the Leadership Strategies online store.
Want to learn how to engage your team and create an environment of trust?