Today, business meetings take place virtually using a variety of media, including videoconferencing, mobile apps, communication software like Slack, and other platforms. Many organizations have even adopted a fully distributed model. So, it's no surprise that virtual meetings will continue to rise. Virtual meetings reduce the cost of travel and add more convenience, yet they also present significant challenges to you, the meeting facilitator.
You must still find ways to engage your group. You need to minimize distraction and dysfunction, while preventing hiccups that occur with technology. This is all while not being in the same room as your participants. It's tricky, but we have identified several tips to help you along the way. Apply these 14 tips to help you plan, begin, and execute your virtual meetings.
Download, print, and share! Job Aid: Leading Virtual Meetings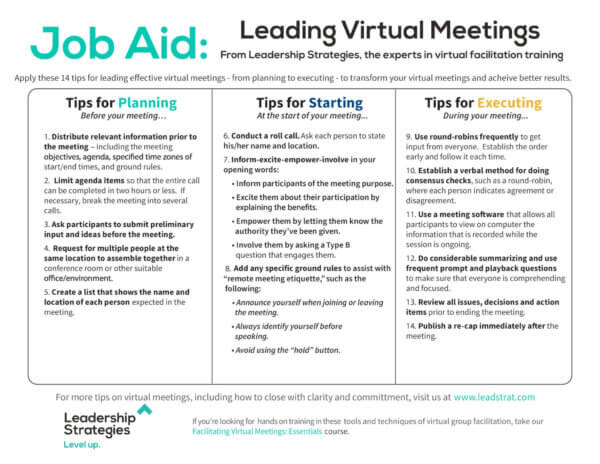 Learn more remote facilitation best practices and expert ways to combat common challenges in our leading training courses – all conveniently delivered online with a live facilitation expert:
Not sure which training to choose? Contact us to find out which course is right for you or your team.