Strategic Planning Facilitation Methodology
Has your organization spent countless hours developing strategic plans that simply haven't produced acceptable results?  Or, are you considering formalizing a business strategy for the first time?
Our expert strategic planning facilitators can help you plan, implement and monitor your corporate, government or NPO business strategy. And, ask about our satisfaction guarantee.
Our Strategic Planning Methodology
We've developed "The Drivers Model", our proven methodology for helping an organization identify it's business problems and construct an effective strategic plan of action for solving them.
The model is fully scalable and works for Fortune 500 companies, non-for-profit organizations, government agencies, field offices, individual departments, work teams, and more.
Contact us and tell us about your strategic planning needs. We'll send you a free Strategic Planning guide, complete with a sample plan and list of the key elements of an effective strategic plan, defined.
The Drivers Model Strategic Planning Methodology Phases:
Phase I
Situation Assessment

Phase II
Strategy Workshop

Phase III
Implementation and Monitoring

1. Agree on the key issues, the planning process and a plan for the briefing book – a multi-view assessment of the current state.
2. Prepare and distribute the briefing book.
1. Define the strategic plan for the organization, including broad goals, measurable objectives, specific strategies and priorities.
1. Develop action plans for priority strategies.
2. Implement the communication plan.
3. Implement the strategies.
4. Monitor/report progress.
5. Adjust the plan as needed.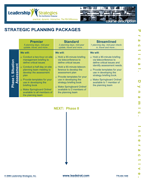 Example Strategic Planning Packages
Premier – Five days of planning sessions; mid-year update; travel and more…
Standard – Two days of planning sessions; mid-year update; travel and more…
Streamlined – One day of planning; mid-year check-in; travel and more…
View Detailed Package Information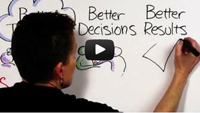 View our Strategic Planning Videos here.
---
Contact Us About Strategic Planning Facilitation »