Resources
eBook: 4 Components of Strategic Planning: An Essential Guide to Strategy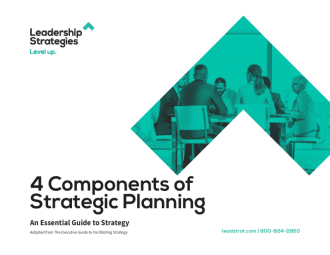 Developing an effective strategic plan for your organization is not an easy task, but with a focused, scalable approach, it is absolutely possible. While there are different models that work for different organizations, at the core of strategic planning are universal components that every leader needs to know in order to develop a strategy that works. Learn about those essential components in this eBook.
You will discover:
The Whys:  5 Reasons to Plan
The How: The Drivers Model
The Whats: Terms and Definitions
The Who: Knowing How to Choose Your Facilitator
Please fill out the form below to receive your free eBook!