Resources
Whitepaper: Surviving and Thriving in the New Reality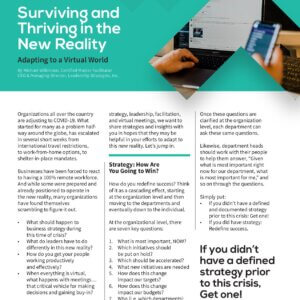 Many businesses are shifting to a fully remote workforce. While some were prepared and positioned to operate in the new reality, most are scrambling to figure it out. This whitepaper answers the questions many leaders are asking themselves during this unprecedented time:
What happens to business strategy during times of crisis?
What do leaders have to do differently in the new reality?
How do organizations get their people working productively and effectively?
When everything is virtual, what happens with meetings?
Please complete the form below to download this free whitepaper from our CEO and Managing Director, Michael Wilkinson.